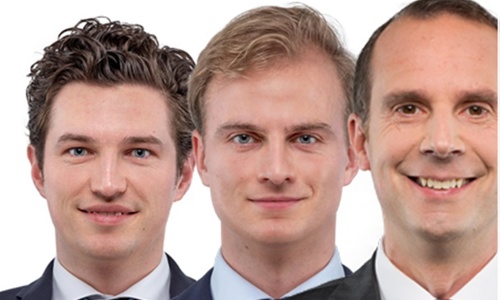 We are pleased to announce that Waldo Bemer has recently been promoted to Partner. As part of the firm's senior team for the past 5 years, Waldo has been very valuable in the successful expansion of our M&A franchise across the Benelux. Prior to joining Nielen Schuman, Waldo worked for 8 years in Credit Suisse's Investment Banking Department in London, Singapore and Sydney.
Waldo is an experienced senior corporate finance professional with an extensive international transaction track record, advising corporates, investors and governments. He has been particularly successful in increasing the firm's coverage efforts of the TMT and Business Services sectors.
As a further testament to our accelerated growth, we have hired 2 new professionals this year. As of January 1st, Sjors Linssen and Adriaan Brabander have strengthened our team. Sjors previously worked in the debt advisory team of EY Montesquieu for 6 years and joined us as an Associate Director. He has significant experience across a broad variety of financing transactions. Adriaan Brabander joined us as an Analyst and was previously an intern in our team.  
We are very excited with the appointment of these skilled and ambitious professionals. It reflects Nielen Schuman's ambition to continue its strong growth path and strengthen the firm's leading position in the Benelux as independent provider of M&A and Capital Advisory services.